Are you looking to dominate the SEO landscape? You might want to rethink your strategy. Many small businesses get caught up in ranking for competitive keywords. There's no denying the appeal of the rat race. But the odds of getting a top ranking for a popular national search are stacked against you. Local keyword research, on the other hand, can be extremely beneficial for small businesses. The search volume might be lower, but it can also be more valuable. That's especially true when you consider 18% of local mobile searches lead to a sale within one day.  Proper keyword research can help you attract these searches in the short and long-term. Here you'll learn how to target your local audience and turn them into real-life visitors.
Aim for the mobile long tail
Are you looking for more in-store foot traffic? Don't target the big ticket keywords. Instead, look for new ways to target a key local demographic – mobile users. Nearly 60 percent of all searches now come from a mobile device. The rise of smartphones have only made it more important for businesses to target mobile search. This is the platform where local search happens.
Local searches are customized to the user's needs. As a result, prominent keywords are often more long tail than those found in desktop searches. Consider someone in Boston searching for a vegetarian restaurant. They might search "vegetarian restaurant'' or "vegetarian restaurant Boston." But that doesn't unleash the power of proximity. They are much more likely to search for "vegetarian restaurant cambridge ma" or "vegetarian restaurant Mass Ave" instead. Include multiple search terms for your specific industry and area. The volume for individual neighborhoods might seem small, but remember that these searches are highly targeted. Mobile long tail keywords are less competitive and can translate into big time conversions.
Make it very product/service directed
You should always ask yourself one question before starting your keyword research: "What would I enter in a search engine to find my business?" Think about all the variations your customers would use to connect with you. A good formula for local keywords is to emphasize specific products or services followed by the city. This is especially effective when you are pursuing lower level category pages. There's no magic number when it comes to keywords. If you're a more niche business with fewer services, you don't need to pursue a bunch of keywords.
Don't Pursue Duplicate Content Landing Pages
You might be tempted to pursue duplicate content landing pages, especially if you're targeting multiple cities. It makes sense to create separate landing pages for specific cities. But you also have to put in the work. Google doesn't allow you take the easy way out. If you use duplicate content on each landing page, there's a good chance that Google will figure it out. In Google's eyes, duplicate content is when the same content appears in more than one place on the web. This makes it more difficult for search engines to differentiate the content and determine its relevancy for search queries. You may get hit with a penalty or have trouble ranking for local search. If you want to target different cities, you have to write individual copy for each landing page.
Google Trends Regional
It's no secret that Google Trends is a powerful tool. But it can be used for more than up-to-date trends on news, pop culture and sports. Few people Google Trends as a tool for measuring search trends on a local level. Google Trends can give you insight into a keyword's popularity on a national, state, or city level. You can conduct research based on specific local keywords to see which ones are the most valuable for your business. The search terms can be remarkably different from state to state, so be sure to adjust your strategy for each targeted location. For example, here's a comparison of the terms "spa" and "salon" as they are searched in the state of Minnesota.
Here are the same search terms broken down for the state of California.

As you can see, salon is emerging as a more popular term in Minnesota, whereas the two search terms have similar interest in California. You can adjust your local keywords to pursue more popular search terms by area. You can also take popular searches from Google Trends to inspire additional keyword research. Place search terms inside a Keyword Generator to generate ideas for more keywords. A keyword generator can break down search terms into even more specific locations. These tools can help you better understand how your customer searches vary from place to place.
Google AdWords
You can also filter the Google AdWords keyword planner by specific location to find keyword search volumes specific to your location.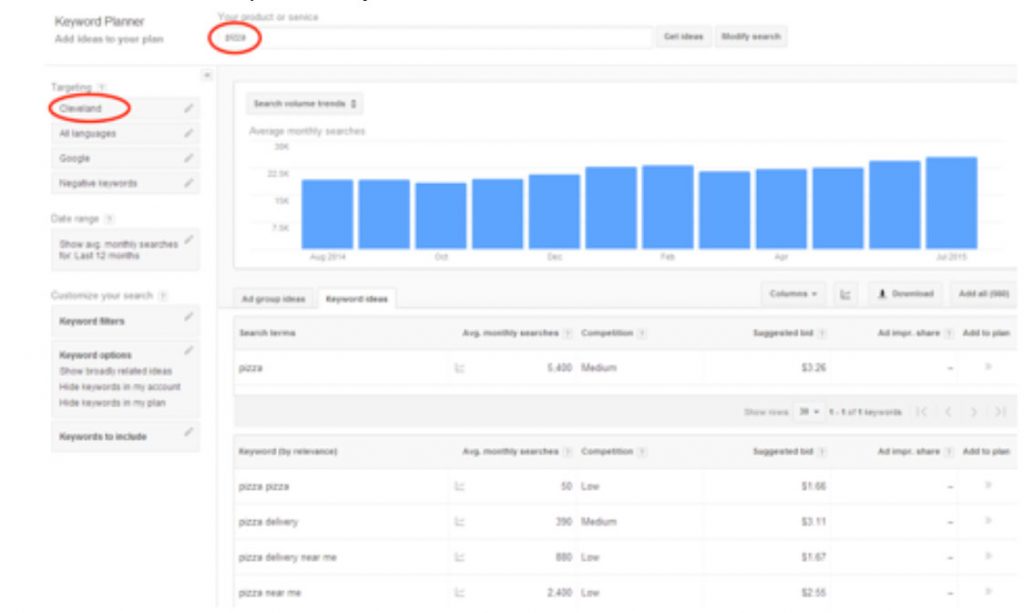 This will give you a snapshot of historical statistics for keyword search volume by location. Simply add the specific location, date range, and keywords you are researching to get insight into the statistics. "Avg. monthly searches" will showcase the number of times people have conducted relevant searches over a 12-month period.
SEO relies on a balance between local and national SEO. Local search may not have the same volume as national, but the leads are highly targeted and ready to convert. Your local keyword research should reveal key insights about the way your customers search. By targeting local search, you can pave a clearer path to sales and conversions.